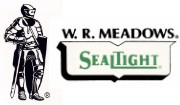 NO. 354-PD
LIN-SEAL® WHITE
CURING AND ANTI-SPALLING COMPOUND

Technical Description
SEALTIGHT LIN-SEAL WHITE Curing and Anti-Spalling Compound is a true water-base, white pigmented, high solids solution of boiled linseed oil. When properly applied, it provides an impermeable seal which optimizes water retention. The white pigments reflect the heat producing rays of the sun to keep the concrete surface cooler and prevent excessive heat build-up.

SEALTIGHT LIN-SEAL WHITE meets maximum VOC content limits of 350 g/L for Concrete Curing Compounds as required by the U.S. EPA Architectural Coatings Rule.

Uses
SEALTIGHT LIN-SEAL WHITE Curing and Anti-Spalling Compound is ideal for use in preventing the spalling and scaling of concrete surfaces. Use on bridge decks, parking garage decks, ramps and/or any concrete surface exposed to water, salts or other deleterious materials. Increases the durability of concrete to prolong its life.

Advantages and Benefits
| | |
| --- | --- |
| | True water-base compound furnished ready-to-use |
| | Provides moisture retaining, light-reflective membrane |
| | Prevents scaling and spalling |
| | Quickly, easily applied with conventional commercial spray equipment |
| | VOC compliant...meets the U.S. EPA Architectural Coatings Rule requirements |
PHYSICAL PROPERTIES
Drying Time: Depends upon weather conditions and coverage, but will generally dry in 3 hours.
Non-Volatile %: 52%
Flash Point: None
Weight Per Gallon: 8.5 lbs.

Application
PREPARATION: Application equipment must be clean and free of previously used materials.

MIXING: Any settling in the drums can be easily redispersed with gentle agitation prior to use. Do not mix excessively to avoid foaming.

NOTE: DO NOT MIX "WATER-BASE" COMPOUNDS WITH ANY COMPOUND CONTAINING SOLVENT.

APPLICATION: May be sprayed on in one even coat with a hand or power sprayer as soon as the surface water disappears. On vertical surfaces, spray on promptly after the forms are removed.

CLEANUP: Application equipment may be cleaned easily with soap and water. Materials soaked with linseed oil (rags, absorbants, etc.) may spontaneously catch fire if improperly discarded. Immediately after use, all materials coming in contact with this product should be placed in a sealed, water-filled container.

Packaging
5 gallon (18.93 liter) Pails
55 gallon (208.20 liter) Drums

Coverage
Approximately 200 ft²/gal.

Specifications
ASTM C 309, Type II, Class B*
AASHTO M 148, Type II*
State D.O.T. Specifications
*With exemptions for drying time.
Precautions
Use only on surfaces that allow traffic contact to wear off residue.
Do not use on surfaces that are later to be painted, tiled, hardened, sealed or treated in any manner. Do not apply when the temperature of the concrete is less than 40ºF (4ºC).

DO NOT MIX WITH COMPOUNDS CONTAINING SOLVENT. DO NOT ADD OR DILUTE WITH ANY OTHER COMPOUND.

KEEP FROM FREEZING.
This material last updated January, 2000.


W. R. MEADOWS, INC. warrants that, at the time and place we make shipment, our materials will be of good quality and will conform with our published specifications in force on the date of acceptance of the order. THE FOREGOING WARRANTY SHALL BE EXCLUSIVE AND IN LIEU OF ANY OTHER WARRANTY, EXPRESS OR IMPLIED, INCLUDING THE IMPLIED WARRANTIES OF MERCHANTABILITY AND FITNESS FOR A PARTICULAR PURPOSE AND ALL OTHER WARRANTIES OTHERWISE ARISING BY OPERATION OF LAW, COURSE OF DEALING, CUSTOM OF TRADE OR OTHERWISE. As the exclusive remedy for breach of this Warranty, we will replace defective materials, provided, however, that the buyer examine the materials when received and promptly notify us in writing of any defect before the materials are used or incorporated into a structure. Three (3) months after W. R. MEADOWS, INC. has shipped the materials, all our Warranty and other duties with respect to the quality of the materials delivered shall conclusively be presumed to have been satisfied, all liability therefore terminates, and no action for breach of any such duties may thereafter be commenced. W. R. MEADOWS, INC. shall in no event be liable for consequential damages. Unless otherwise agreed to in writing, no warranty is made with respect to materials not manufactured by W. R. MEADOWS, INC. We cannot warranty or in any way guarantee any particular method of use or application of the performance of materials under any particular condition. Neither this Warranty nor our liability may be extended or amended by our salesmen, distributors or representatives, or by our distributor's representatives, or by any sales information or drawings.