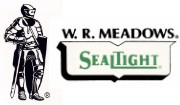 NO. 395
REZI-WELD™ 3/2
EPOXY GROUT-PATCH KIT
Three components pre-blended into two...reduces labor and job-site confusion.

SEALTIGHT REZI-WELD 3/2 Grout-Patch Kit is a versatile, high-modulus two-component epoxy kit providing a flowable viscosity and high compressive strength all in one unitized mixing vessel.

Technical Description
SEALTIGHT REZI-WELD 3/2 Grout-Patch Kit is a moisture-insensitive, two-component epoxy kit for grouting, sealing base plates and patching concrete. Part A, the specially formulated epoxy resin and selected, graded aggregates are premixed and packaged in a 5-gallon (18.93 liter) container. A drop-in tray is provided to hold the separately packaged Part B, or activator. This handy, unitized packaging provides its own mixing vessel. Just open the pail, remove the tray, add the activator to the premixed epoxy-aggregate compound and mix until ready to use...it's that easy.

REZI-WELD 3/2 Grout-Patch offers a flowable viscosity for application versatility. It provides a 50 to 60 minute work life and offers high compressive strength. REZI-WELD 3/2 Grout-Patch resists many industrial chemicals, alkalis, oils, gasoline, most solvents, and some acids.

Uses
REZI-WELD 3/2 Grout-Patch Kit is ideal for a variety of construction grouting and patching repair projects. As an epoxy grout, it can be readily poured under base plates or used for anchoring bolts. When applied as a concrete patch, the patching mix serves as a brushed on primer. A finishing trowel completes the patching mix application while the primer is still tacky.

Advantages and Benefits
| | |
| --- | --- |
| | Ready-to-mix, pre-portioned, unitized package |
| | Offers a moisture-insensitive, non-shrink, flowable-viscosity grout |
| | Provides fast strength gain and high compressive strength with low heat development |
| | Resists corrosion, many industrial chemicals, oils, alkalis, gasoline, some solvents and acids |
| | Allows up to 60 minutes of work life |
| | Stress and impact resistant |
| | VOC-compliant |
Application Tools
| | |
| --- | --- |
| Electric Drill with Jiffy Blade | Trowel |
Application
SURFACE PREPARATION: Mechanically abrade all surfaces to be bonded. Substrates must be dust-free, clean and void of all contaminants, and should be dry for optimal adhesion. All surfaces must be abraded to a white metal finish. Apply grout immediately to prevent flash rusting.

FORMING: The flowable consistency of REZI-WELD 3/2 GROUT-PATCH requires that forms be used around the base plates to contain the grout/patch. Seal all forms to prevent the grout/patch from leaking. To prevent adhesion of the grout to the forms, apply a suitable bond breaker. To facilitate placement, allow for a2" (50.8mm) formwork head.

MIXING: Condition all components to 60ºF-85ºF for 24 hours prior to use. Pre-mix each component. Mechanically mix at a slow speed (600-900 rpm) using a drill and Jiffy Blade or drum mixer for 3 minutes or until completely mixed while scraping the sides to ensure complete blending of components. The mixed product should be uniform gray in color and not show streaks. Avoid air entrapment. Mix only very small quantities by hand for a minimum of 3 minutes or until sufficiently blended together using the supplied stirring stick. Scrape the sides of the container to ensure complete blending of components. Mix only the amount of epoxy that can be applied within the product's potlife. Potlife will decrease as the ambient temperature and/or mass size increases.

METHOD OF APPLICATION: Avoid air entrapment by pouring the prepared grout into the forms from 1 or 2 sides. Maintain a liquid head to ensure complete contact with the base plate. Place enough grout/patch to allow the grout to rise slightly above the underside of the base plate. A 1" (25.4mm) minimum grout head is required.

CLEANUP: Tools and equipment should be cleaned immediately after application. Clean equipment away from heat, sparks and open flame with Toluene or Xylene. Avoid breathing vapors or allowing epoxy-containing solvent to contact skin. Should skin contact occur, wash thoroughly with soap and water.

Packaging
5 gallon (18.93 liter) Pails

Coverage
One unit will yield approximately .50 ft³ (3.75 gallons) (0.014m³) of grout/patch when Part A and Part B Components are completely mixed together.

Shelf Life
Shelf life is approximately two years in the original, unopened container when stored in a dry environment at temperatures 40 to 90ºF (4º to 32ºC).

Precautions
Do not dilute. Addition of solvents will prevent proper curing. Surface temperatures must be between 40º and 90ºF (4º to 32ºC). Cold material may need to be pushed, rodded or chained to achieve proper placement. Keep container tightly closed until ready for use. Unused epoxy will generate excessive heat, especially in large quantities. Unused epoxy should be mixed with dry sand in a container to help lower the heat.
Refer to Material Safety Data Sheet for complete health and safety information.
Physical Properties

Compressive Strength @ 73ºF (23ºC): (ASTM D 695)

1 Day
3 Days
7 Days

Color
Modulus of Elasticity, psi: 28 days
Flexural Properties (ASTM D 790)
Flexural Strength (Modulus of Rupture)
Tangent Modulus of Elasticity in Bending
Water Absorption (ASTM D 570)
Total Water Absorption, 24 hrs.
Bond Strength (ASTM C 882 modified)
7 Day Bond Strength to Concrete

8,000 psi (55 MPa)
11,000 psi (75 MPa)
13,000 psi (89 MPa)

Concrete Gray
1,000,000 (6,900 MPa)

4,065 psi (28.05 MPa)
10,000,000

0.09%
4,034 psi (27.84 MPa)


W. R. MEADOWS, INC. warrants that, at the time and place we make shipment, our materials will be of good quality and will conform with our published specifications in force on the date of acceptance of the order. THE FOREGOING WARRANTY SHALL BE EXCLUSIVE AND IN LIEU OF ANY OTHER WARRANTY, EXPRESS OR IMPLIED, INCLUDING THE IMPLIED WARRANTIES OF MERCHANTABILITY AND FITNESS FOR A PARTICULAR PURPOSE AND ALL OTHER WARRANTIES OTHERWISE ARISING BY OPERATION OF LAW, COURSE OF DEALING, CUSTOM OF TRADE OR OTHERWISE. As the exclusive remedy for breach of this Warranty, we will replace defective materials, provided, however, that the buyer examine the materials when received and promptly notify us in writing of any defect before the materials are used or incorporated into a structure. Three (3) months after W. R. MEADOWS, INC. has shipped the materials, all our Warranty and other duties with respect to the quality of the materials delivered shall conclusively be presumed to have been satisfied, all liability therefore terminates, and no action for breach of any such duties may thereafter be commenced. W. R. MEADOWS, INC. shall in no event be liable for consequential damages. Unless otherwise agreed to in writing, no warranty is made with respect to materials not manufactured by W. R. MEADOWS, INC. We cannot warranty or in any way guarantee any particular method of use or application of the performance of materials under any particular condition. Neither this Warranty nor our liability may be extended or amended by our salesmen, distributors or representatives, or by our distributor's representatives, or by any sales information or drawings.