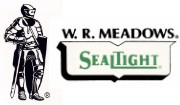 NO. 374
VOCOMP®-30
30% SOLIDS WATER-BASE ACRYLIC CURING AND SEALING COMPOUND
Cures and/or seals interior or exterior concrete surfaces without after-yellowing or changing the natural color of the concrete

VOCOMP-30 is part of the third generation of curing and sealing products from W. R. MEADOWS, Inc.
A potable water approved product (in accordance with Standard ANSI/NSF 61-1997B 69RL) is available upon request. A copy of this approval is also available upon request.

Technical Description
VOCOMP-30 is a ready-to-use 30% solids, curing and sealing compound, formulated using "state-of-the-art" resins in a true water-base carrier. This formulation appears "milky white" in the container and when just applied, leaves a "bluish cast" on the concrete for easy visual identification of coverage. It dries clear to provide a transparent sheen finish. VOCOMP-30 will not after-yellow or change the natural color of concrete. It also significantly reduces blushing. VOCOMP-30 provides an excellent, thicker, long lasting film finish that offers improved resistance to most chemicals, petroleum and abrasives.

When properly applied, VOCOMP-30 produces an impermeable seal for superior moisture retention. For added protection and an even higher sheen finish on the concrete surfaces, a second coat of VOCOMP-30 may be applied. VOCOMP-30 will minimize hair-checking, premature cracking, dusting and spalling. However, good concrete and good concrete practices should be used as VOCOMP-30 is not a cure-all for improperly mixed or placed concrete.

VOCOMP-30 meets maximum VOC content of 700 g/L for Concrete Curing and Sealing Compounds as required by U.S. EPA Architectural Coatings Rule.

Uses
VOCOMP-30 may be used wherever a thicker film, high-gloss sheen finish is desired. It may be quickly and easily applied to cure, seal and dustproof new and old, interior and exterior, vertical and horizontal concrete surfaces. When properly applied, VOCOMP-30 produces an impermeable seal for superior moisture retention. It is ideal for application on commercial and industrial floors, sidewalks, basement and garage floors, multi-level parking decks, patios, driveways and parking areas. VOCOMP-30 dries very quickly to protect and enhance the natural appearance of concrete.

Packaging
1 gallon (3.97 liter) Cans (6/case)
5 gallon (18.93 liter) Pails
55 gallon (208.2 liter) Drums

Features and Benefits
| | |
| --- | --- |
| | Provides a ready-to-use, non-yellowing, water emulsion compound that seals and protects concrete in one quick and easy application |
| | Reduces blushing significantly |
| | Dries quickly on new concrete to provide a clear, tough, easy-to-clean finish |
| | Applicable for use on new, old, interior, exterior, horizontal and vertical concrete surfaces |
| | Improves resistance to most chemicals, petroleum, abrasives and mortar droppings |
| | Clean up application tools with soap and water |
| | VOC compliant...meets the U.S. EPA Architectural Coatings Rule requirements |
Application Tools


Manual Sprayer


Application
SURFACE PREPARATION...OLD CONCRETE: Surface preparation is extremely important. Concrete must always be clean and dry, with all stains, oil, grease, dust and dirt removed prior to application. If not, they will be amplified by the transparent sheen finish. CAUTION: If a liquid compound other than VOCOMP-20, VOCOMP-25-1315, VOCOMP-30, CS309-1315 or TIAH-1315 has been used, do not apply VOCOMP-30 until all traces of the compound have been completely removed and the surface is clean and dry. NEW CONCRETE: Once the surface will accept walking workmen without marring, then the surface is ready for the application of VOCOMP-30.

APPLICATION METHOD...VOCOMP-30 is ready to use from the container. A typical commercial sprayer provides an easy, economical method of application. Use a Chapin 8001 spray tip that produces a flow of 1/10th of a gallon per minute. VOCOMP-30 should be sprayed on in a fine, fog pattern, without spurts and dribbles, to form a thin, continuous film. AVOID PUDDLING in low areas.... if puddles occurs, brush or roll them out.

DRYING TIME: VOCOMP-30 dries very quickly on new,virgin concrete. Drying times may be extended on old concrete due to surface conditions. Restrict foot traffic for at least 4 hours; 12 hours is preferable.

NOTE: For added protection and a greater sheen on new or old concrete, we recommend (2) coats of VOCOMP-30 be applied at right angles. Additional coats of VOCOMP-30 may be applied after the previous coat has thoroughly dried. Naturally, drying time may vary depending on temperature, humidity and project conditions.

CLEANUP: While still wet, equipment may be cleaned quickly and easily with soap and water. Once dried, the material may be removed with a solvent such as Xylene or Toluene.

Specifications
ASTM C 309, Type 1, Class B
ASTM C 1315, Type I, Class A
AASHTO M 148, Type 1, Class B
Federal Specification TT-C-800A, Type I, Class 1
USDA Accepted

Coverage
Broomed Surface: Approximately 300 ft.²/gal. (7.35m²/L)
Troweled Surface: Approximately 500 ft.²/gal. (12.26m²/L)

Precautions
DO NOT DILUTE. KEEP FROM FREEZING. Use material "as is" from the container. Do not apply if the temperature of the concrete is less than 40ºF (4ºC) Do not paint or apply resilient flooring over VOCOMP-30 without first checking the specifications and securing the approval of the paint or resilient flooring manufacturer. Do not us on non-porous surfaces or surfaces which are not uniform in porosity, i.e. brick, stone, masonry etc. VOCOMP-30 may also be applied to colored concrete, but mottling may occur. NOTE: Concrete floors properly sealed with VOCOMP-30 meet Section 8.9 "Adhesion of Tile Cements" of ASTM C 1315. Read and follow application information, precautions, and Material Safety Data information.

Health Hazards
Do not apply this product in locations where food items are present. Direct contact may cause mild to moderate irritation.

This material last updated September, 2001.



W. R. MEADOWS, INC. warrants that, at the time and place we make shipment, our materials will be of good quality and will conform with our published specifications in force on the date of acceptance of the order. THE FOREGOING WARRANTY SHALL BE EXCLUSIVE AND IN LIEU OF ANY OTHER WARRANTY, EXPRESS OR IMPLIED, INCLUDING THE IMPLIED WARRANTIES OF MERCHANTABILITY AND FITNESS FOR A PARTICULAR PURPOSE AND ALL OTHER WARRANTIES OTHERWISE ARISING BY OPERATION OF LAW, COURSE OF DEALING, CUSTOM OF TRADE OR OTHERWISE. As the exclusive remedy for breach of this Warranty, we will replace defective materials, provided, however, that the buyer examine the materials when received and promptly notify us in writing of any defect before the materials are used or incorporated into a structure. Three (3) months after W. R. MEADOWS, INC. has shipped the materials, all our Warranty and other duties with respect to the quality of the materials delivered shall conclusively be presumed to have been satisfied, all liability therefore terminates, and no action for breach of any such duties may thereafter be commenced. W. R. MEADOWS, INC. shall in no event be liable for consequential damages. Unless otherwise agreed to in writing, no warranty is made with respect to materials not manufactured by W. R. MEADOWS, INC. We cannot warranty or in any way guarantee any particular method of use or application of the performance of materials under any particular condition. Neither this Warranty nor our liability may be extended or amended by our salesmen, distributors or representatives, or by our distributor's representatives, or by any sales information or drawings.