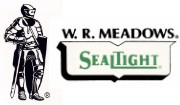 NO. 351-PD
SEALTIGHT® ACRY-LOK™
AN ACRYLIC POLYMER, BOND-ENHANCING, ADMIXTURE
DESCRIPTION
SEALTIGHT ACRY-LOK is a high solids, acrylic polymer latex bonding agent and admixture. This milky white liquid is non-yellowing in Portland Cement compositions. When used as an admixture, ACRY-LOK provides better crack resistance, flexural strength, and freeze / thaw tolerance. Permeability is reduced, allowing more protection from chloride intrusion.
As a bonding agent, ACRY-LOK enhances the bond between existing concrete and placement of a fresh repair. It will not re-emulsify.
USES
Since ACRY-LOK will not re-emulsify, concrete repairs / mortars fortified with ACRY-LOK are ideal for interior, exterior and moisture related applications. Typical areas that would benefit from properties of this product include toppings, mortars, grouts, vertical, horizontal and overhead patching. Use ACRY-LOK neat as a bonding agent or as an additive in scrub coats prior to repairs or overlays.
SPECIFICATIONS
Meets ASTM C 1059-91, Type II, (Non-Re-emulsifiable)
PACKAGING
1 gallon (3.79 L) Unit
5 gallon (18.93 L) Pails
55 gallon (208.20 L) Drums
Cartons: (4) 1 Gallon Units
SHELF LIFE
One year in unopened containers, stored at 50°F to 85°F.
FEATURES/BENEFITS
| | |
| --- | --- |
| | Significantly improves adhesion / Longer lasting repairs |
| | Increases flexural strength / Better durability |
| | Non-Re-emulsifiable / Superior performance in a wet environment |
| | Lowers permeability / Denser, more chemically resistant repairs |
| | Greater resistance to freeze-thaw / Better repair cycling performance |
| | Multi-purpose applications / Easy to use |
| | Increases abrasion resistance / Strong, permanent repairs |
| | Non-yellowing / Aesthetically appealing |
PRECAUTIONS / LIMITATIONS
| | |
| --- | --- |
| | Designed for professional contractors, industrial use only |
| | Do not allow to freeze, properly dispose of any material that has been frozen |
| | Do not apply ACRY-LOK when temperature is expected to be below 40°F (4°C) within 48 hours or when rain is imminent. |
| | Avoid over-mixing and over-working the surface |
| | Do not use with air entrained cement |
| | Do not use with solvent-based curing compounds |
SAFETY AND TOXICITY
Avoid direct contact with this product. Use of safety glasses, rubber gloves and protective clothing is recommended. If contact occurs, wash affected areas with mild soap and water. Keep product out of reach of children. FOR INDUSTRIAL USE ONLY. Refer to Material Safety Data Sheet for complete health and safety information.
SURFACE PREPARATION
Mechanically abrade existing substrate to remove all unsound concrete, but do not use excessive force which may cause micro fracturing. Substrate must be structurally sound and free of grease, oil, dirt or any other contaminants that can adversely affect the bond. Prepared surface must be dust-free and have sufficient profile to ensure adequate mechanical lock. Substrate must be saturated, surface dry (SSD) and free of standing water.
APPLICATION
AS AN ADMIXTURE
Typically, blend one part cement to three parts sand then add enough ACRY-LOK until a desired consistency is achieved. To avoid trapping air, do not over mix. Place modified mortar / repair material and finish appropriately, careful not to overwork the material. Once the finishing process is completed, immediately cure work zone with undiluted ACRY-LOK or one of several MEADOWS' water-base curing compounds. Do not use solvent-base curing compounds.
AS A SLURRY COAT
Mix one-part cement to two parts sand, then add enough undiluted ACRY-LOK to make a slurry consistency. Work slurry into the repair area with a stiff masonry brush, coating the entire area, paying special attention to the corners, sides and any exposed rebar. Place modified mortar / repair material prior to ACRY-LOK becoming tack-free.
AS A BONDING AGENT (NEAT)
Apply ACRY-LOK undiluted by brush, roller or garden type sprayer on prepared surface. Place modified patching/repair material before prepared ACRY-LOK surface dries.
MIXING AND APPLICATION NOTES
Mix designs vary with specific job requirements. Proportioning of sand, cement and ACRY-LOK (Diluted or neat) ratios achieve different physical properties. The application instructions highlight typical conditions. (When in doubt, always apply a test patch).
COMPLIMENTARY REPAIR / PATCHING PRODUCTS
| | |
| --- | --- |
| | MEADOW-PATCH T1: One-component, Horizontal, Overhead and Vertical, Thin Patching Compound |
| | MEADOW-PATCH T2: Two-component, Horizontal, Overhead and Vertical, Thin Patching Compound |
| | MEADOW-CRETES: Complete series of repair products |
| | FUTURA: Rapid-setting repair mortar |
| | MEADOWS' GROUTS: 588, CG-86, PAC-IT |
| | REZI-WELD EPOXIES: 1000, LV, GEL PASTE, Rapid Set Injection, 3/2 Grout Patch, FLEX |
| | INTRALOK: P.V.A. Bonding Agent |
| | MEADOWS' CURING & CURE / SEAL: Complete family of VOC-compliant and water-base products |
This material last updated May, 2000.


W. R. MEADOWS, INC. warrants that, at the time and place we make shipment, our materials will be of good quality and will conform with our published specifications in force on the date of acceptance of the order. THE FOREGOING WARRANTY SHALL BE EXCLUSIVE AND IN LIEU OF ANY OTHER WARRANTY, EXPRESS OR IMPLIED, INCLUDING THE IMPLIED WARRANTIES OF MERCHANTABILITY AND FITNESS FOR A PARTICULAR PURPOSE AND ALL OTHER WARRANTIES OTHERWISE ARISING BY OPERATION OF LAW, COURSE OF DEALING, CUSTOM OF TRADE OR OTHERWISE. As the exclusive remedy for breach of this Warranty, we will replace defective materials, provided, however, that the buyer examine the materials when received and promptly notify us in writing of any defect before the materials are used or incorporated into a structure. Three (3) months after W. R. MEADOWS, INC. has shipped the materials, all our Warranty and other duties with respect to the quality of the materials delivered shall conclusively be presumed to have been satisfied, all liability therefore terminates, and no action for breach of any such duties may thereafter be commenced. W. R. MEADOWS, INC. shall in no event be liable for consequential damages. Unless otherwise agreed to in writing, no warranty is made with respect to materials not manufactured by W. R. MEADOWS, INC. We cannot warranty or in any way guarantee any particular method of use or application of the performance of materials under any particular condition. Neither this Warranty nor our liability may be extended or amended by our salesmen, distributors or representatives, or by our distributor's representatives, or by any sales information or drawings.