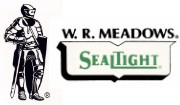 NO. 763-PD
RED ROSIN PAPER
MULTI-PURPOSE BUILDING PAPER
High-quality, heavyweight building paper protective covering and liner.

Technical Description
SEALTIGHT RED ROSIN PAPER is a high-quality, "Made In America" single-ply sheathing paper, which is widely used in built-up roofing systems as a first layer protective barrier. This environmentally friendly paper is manufactured from 100% re-cycled fibers. The fibers are set in alum to resist bleeding. It is a multi-purpose building paper used as a physical barrier protection throughout all phases of general construction.

Uses
SEALTIGHT RED ROSIN PAPER is useful in a wide variety of construction applications including roofing, flooring and as a general jobsite protective covering. When used as an inner liner in wall, roofing or wood flooring applications, RED ROSIN PAPER acts as a separation barrier, protecting against wind and dust infiltration while minimizing squeaks. It is compatible with coal tar and asphalt-based roofing systems.
Features/Benefits
| | |
| --- | --- |
| | Economical protective covering over new floors, prior to completion. Saves time. |
| | Compatible with coal tar and asphalt-based roofing systems. Highly versatile. |
| | Covers gaps in jointed construction. Tightens up the structure. |
| | Specially designed to resist bleeding. Safe to use. |
| | Good general purpose jobsite protective utility paper. Multiple uses. |
Application Tool


Roofer's Knife
Application
SURFACE PREPARATION: Clean surface of all dust, dirt and debris prior to installation.

APPLICATION METHOD: Cut RED ROSIN PAPER to desired lengths from the roll. Overlap each piece 2-1/2" (63.5mm). Once positioned, RED ROSIN PAPER is ready to receive subsequent applications.

Packaging
36" wide x 167 feet long (.91m wide x 50.90m long) Rolls

Coverage
500 ft²/roll (46.45m²/roll)

Precautions
Read and follow application information and precautions. Refer to Material Safety Data Sheet for complete health and safety information.

Physical Properties

Roll Size

Roll Weight
Thickness
Weight, CSF, lbs.
36" wide x 167' long (.91m x 50.90m)
500 ft.²/roll (46.45 m²/roll)
15 -17 lbs./roll (6.8-7.7 kg/roll)
9.0 - 11.5 mils
3.0-3.4 (141-166 grams/m²)
This material last updated November, 2000.


W. R. MEADOWS, INC. warrants that, at the time and place we make shipment, our materials will be of good quality and will conform with our published specifications in force on the date of acceptance of the order. THE FOREGOING WARRANTY SHALL BE EXCLUSIVE AND IN LIEU OF ANY OTHER WARRANTY, EXPRESS OR IMPLIED, INCLUDING THE IMPLIED WARRANTIES OF MERCHANTABILITY AND FITNESS FOR A PARTICULAR PURPOSE AND ALL OTHER WARRANTIES OTHERWISE ARISING BY OPERATION OF LAW, COURSE OF DEALING, CUSTOM OF TRADE OR OTHERWISE. As the exclusive remedy for breach of this Warranty, we will replace defective materials, provided, however, that the buyer examine the materials when received and promptly notify
us in writing of any defect before the materials are used or incorporated into a structure. Three (3) months after W. R. MEADOWS, INC. has shipped the materials, all our Warranty and other duties with respect to the quality of the materials delivered shall conclusively be presumed to have been satisfied, all liability therefore terminates, and no action for breach of any such duties may thereafter be commenced. W. R. MEADOWS, INC. shall in no event be liable for consequential damages. Unless otherwise agreed to in writing, no warranty is made with respect to materials not manufactured by W. R. MEADOWS, INC. We cannot warranty or in any way guarantee any particular method of use or application of the performance of materials under any particular condition. Neither this Warranty nor our liability may be extended or amended by our salesmen, distributors or representatives, or by our distributor's representatives, or by any sales information or drawings.