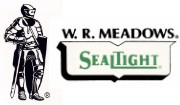 No. 386-PD
SEALTIGHT® MEADOW-PATCH T2
TWO - COMPONENT, POLYMER MODIFIED, THIN REPAIR PATCH MORTAR
DESCRIPTION
SEALTIGHT MEADOW-PATCH T2 is a two-component, polymer-modified, cementitious resurfacing / repair mortar designed for horizontal, vertical and overhead applications. This all-purpose mortar is designed for patches, toppings and repairs from 1" thickness to featheredge.
USES
MEADOW-PATCH T2 is easy to mix and apply; versatile and produces repaired surfaces suitable for rubber-wheeled traffic. For overhead or vertical use, MEADOW-PATCH T2 is an ideal choice for smoothing rough surfaces, repairing honeycombs and dressing up bugholes. When mixed, this creamy consistency provides an excellent skim coating for swimming pools, concrete walls, balconies, etc. Because of its excellent bond and freeze-thaw resistance, MEADOW-PATCH T2 may be used for interior and/or exterior, below, above or on grade.
FEATURES / BENEFITS
| | |
| --- | --- |
| | Polymer Modified – Enhanced bond |
| | Low permeability – Protects embedded reinforcing steel |
| | Enhanced flexuals and tensile properties |
| | Breathable – Will not act as a vapor barrier |
| | Excellent freeze-thaw characteristics – Long term stability |
| | Creamy consistency – Easily finished |
TECHNICAL DATA
Set Times per ASTM C 191
Initial: 60-90 minutes
Final: 90-120 minutes
Compressive Strength per ASTM C 109
@ 3 days: 3,000 PSI
@ 28 days: 5,500 PSI
COMPLIMENTARY REPAIR/PATCHING PRODUCTS:
| | |
| --- | --- |
| | FUTURA-15 & 30, rapid-hardening repair mortars |
| | MEADOW-CRETE H2, Two-component, polymer modified cementitious repair mortar for horizontal applications |
| | MEADOW-CRETE GPS, All-purpose, polymer-modified, hand or spray applied structural repair mortar |
| | MEADOW-CRETE FNP, One-component, flowable form and pour repair mortar for structural applications |
| | MEADOW-PATCH 5&20, All-purpose, rapid setting repair mortars |
| | MEADOW-PLUG, Super fast-setting, hydraulic repair mortar |
| | MEADOW-COAT, Waterproofing, decorative cementitious thin coating |
MEADOWS GROUTS:
| | |
| --- | --- |
| | 588, CG-86, PAC-IT |
MEADOWS REZI-WELD EPOXIES:
| | |
| --- | --- |
| | 1000, Gel Paste, LV, Rapid Set Injection, Grout Patch, FLEX |
MEADOWS CURING & CURE / SEAL:
| | |
| --- | --- |
| | Complete family of VOC-compliant and water-base products |
PACKAGING AND STORAGE
MEADOW-PATCH T2 is available in 50 lb. (22.7kg) bags. When stored on pallets in a dry, cool area, it has a shelf life of 12 months.
COLORS AND YIELD
Cement gray. MEADOW-PATCH T2 covers approximately 55 ft.² @ 1/8 in. (5m2 @ 3mm). Yield per 50 lb. bag is 0.45 ft.3 (0.013m3)
LIMITATIONS
Do not apply MEADOW-PATCH T2 when the temperature is expected to be below 45ºF (7ºC) within 48 hours or when rain is imminent. Maximum application thickness must not exceed 1" (25.4mm) neat. Avoid steel-wheeled traffic in thin applications. Thin applications subject to point loading should also be avoided. Protect thin applications from rapid water loss.
SURFACE PREPARATION
Mechanically abrade existing substrate to remove all unsound concrete, but do not use excessive force which may cause micro-fracturing. Prepare surface in accordance with ICRI Technical Guide No. 03730. Substrate must be structurally sound and free of grease, oil, dirt or any other contaminants that can adversely affect the bond. Prepared surface must be dust-free and have sufficient profile to ensure adequate mechanical lock. Substrate must be saturated, surface dry (SSD) and free of standing water. Prime (SSD) substrate with slurry coat (two parts powder to one part SEALTIGHT ACRY-LOK). Allow slurry coat to become tacky prior to application of MEADOW-PATCH T2. Do not allow slurry coat to become tack free.
MIXING
Using a mortar type mixer, pour approximately 3/4 of the ACRY-LOK polymer 1-gallon (U.S.) jug into a clean mixing container. Slowly add powder and mix to a desired consistency using the remaining liquid polymer as needed. Mix for 3 minutes, or until lump-free consistency is obtained. Do not over mix. For small repairs, mix in a clean vessel using a variable-speed drill with a paddle mixer at 400-600 rpm. Mix only complete bags. Do not mix more material than can be placed and finished in 30 minutes at 77ºF (25ºC).
EXTENSION
Applications greater than 1/2" must be extended with 12.5 lbs. (5.68 kg) of 1/4" washed, dry pea gravel. Applications greater than 1", up to 2" must be extended with 25 lbs. (11.36 kg) of 3/8" washed, dry pea gravel.
PLACEMENT
Apply MEADOW-PATCH T2 into the repair zone substrate by compacting the material well against the properly prepared substrate. Finish surface with wood or sponge float. Never retemper.
CURING
The use of SEALTIGHT EVAPRE may proceed immediately after screeding and / or between finishing operations. MEADOW-PATCH T2 must be cured in accordance with ACI 308, utilizing a suitable curing compound such as SEALTIGHT 1100 Series, SEALTIGHT 1600 Series or VOCOMP-25. Protect from rapid early water loss.
SAFETY AND TOXICITY
Avoid direct contact with this product, as it may cause skin and eye irritation. Utilize gloves and goggles to minimize direct contact. Avoid inhalation of dust. Inhalation may cause respiratory irritation and/or lung disease (silicosis). This product contains silicon dioxide, which is classified by the IARC and NTP as probably carcinogenic to humans (IARC Group 2A). The use of NIOSH approved respiratory protection is recommended in dusty environments. Refer to Product Material Safety Data Sheet for complete health and safety information.
Keep product out of reach of children.
FOR INDUSTRIAL USE ONLY.
This material last updated June, 2001.



W. R. MEADOWS, INC. warrants that, at the time and place we make shipment, our materials will be of good quality and will conform with our published specifications in force on the date of acceptance of the order. THE FOREGOING WARRANTY SHALL BE EXCLUSIVE AND IN LIEU OF ANY OTHER WARRANTY, EXPRESS OR IMPLIED, INCLUDING THE IMPLIED WARRANTIES OF MERCHANTABILITY AND FITNESS FOR A PARTICULAR PURPOSE AND ALL OTHER WARRANTIES OTHERWISE ARISING BY OPERATION OF LAW, COURSE OF DEALING, CUSTOM OF TRADE OR OTHERWISE. As the exclusive remedy for breach of this Warranty, we will replace defective materials, provided, however, that the buyer examine the materials when received and promptly notify us in writing of any defect before the materials are used or incorporated into a structure. Three (3) months after W. R. MEADOWS, INC. has shipped the materials, all our Warranty and other duties with respect to the quality of the materials delivered shall conclusively be presumed to have been satisfied, all liability therefore terminates, and no action for breach of any such duties may thereafter be commenced. W. R. MEADOWS, INC. shall in no event be liable for consequential damages. Unless otherwise agreed to in writing, no warranty is made with respect to materials not manufactured by W. R. MEADOWS, INC. We cannot warranty or in any way guarantee any particular method of use or application of the performance of materials under any particular condition. Neither this Warranty nor our liability may be extended or amended by our salesmen, distributors or representatives, or by our distributor's representatives, or by any sales information or drawings.