NO. 717
MEL-GARD®
MULTI-DIMENSIONAL WATERPROOFING MEMBRANE
Provides the latest state-of-the-art waterproofing membrane that needs no additional adhesives or separate protection course.

SEALTIGHT MEL-GARD Waterproofing Membrane is a cost-efficient, panel-type product with its own built-in protection course. Dual processes waterproofing and membrane protection can be accomplished in one application.

Technical Description
SEALTIGHT MEL-GARD Multi-Dimensional, Self-Adhering Waterproofing Membrane is composed of a unique combination of materials consisting of a weathercoated, fortified asphaltic protection course layer bonded to an asphalt-saturated carrier sheet which is bonded to a polymeric waterproofing membrane with a release liner. The multi-layer membrane is flexible enough to conform to concrete substrates that are reasonably smooth.

MEL-GARD is tough enough to resist punctures and tears during normal application and backfilling operations. It is light enough for easy handling. Costly callbacks are eliminated in order to replace lost or damaged foam boards blown-off by the wind because backfilling wasn't done on schedule.

With MEL-GARD, backfilling can be done immediately. In fact, in high foundation wall applications, backfill can be used as a natural scaffolding to reach the higher wall surfaces. Contractors like the ease of handling the 4' x 8' (1.22 x 2.44m) board panel size. Architects, engineers, and contractors are offered more cost effective and time-saving options for either vertical or horizontal membrane panel application, even to using Detail Strip to seal the top surface of foundation walls.

The waterproofing product has a W.V.T. (Water Vapor Transmission) rating of 0.015 gr./sq. ft./hr. (0.001395 gr./m²/hr.) which is significantly better than other "peel and stick" self-adhering membranes. With MEL-GARD, no additional adhesives or separate protection boards are required. As a result, workers spend less time down in the hole and use less material to complete the job.

Uses
SEALTIGHT MEL-GARD Multi-Dimensional, Self-Adhering Waterproofing Membrane provides a very cost-effective method for waterproofing foundations and vertical walls and midlevel floors in commercial, industrial, institutional, and residential construction.

Combined with another innovative product, PREMOULDED MEMBRANE® Vapor Seal with PLASMATIC. Core (Refer to Catalog No. 711) for on grade vaporproofing, the two products form a complete vapor/ waterproofing protection system.

A third unique product, AIR-SHIELD™ Self-Adhering Air Barrier and Flashing Membrane can be added to form a trio designed to seal the building envelope for overall cost savings and extended service life for the building wall and its components (Refer to Product Data Sheet 07191-717).

Advantages and Benefits
| | |
| --- | --- |
| | MEL-GARD provides a waterproofing membrane and a protection course in one application |
| | Workers spend less time down in the hole and use less material to complete the job |
| | MEL-GARD is flexible and easy to handle and apply |
| | Need for a separate protection course is eliminated |
| | Eliminates costly callbacks to replace lost or wind damaged foam boards |
| | W.V.T. Rating of 0.015 grains/square feet/hour (0.001395 grains/m²/hour) is significantly better than other "peel and stick" membranes |
| | Available in 4' x 8' (1.22 x 2.44m) sheets to meet nearly every requirement |
| | Offers installers option of using either SEALTIGHT Detail Strip or overlapping to securely seal all joint areas |
| | A very cost-effective and functionally effective method of waterproofing |
| | Compatible with other innovative and unique products to form a protective seal for the entire building |
PHYSICAL PROPERTIES AND CHARACTERISTICS

W. R. MEADOWS
1. Color
2. Packaging (Sheets)
3. Wt/100 SF (9.29m²)
4. Total Thickness
5. Pliability 180º Bend Over 1"
(25.4mm) Mandrel
6. Puncture Resistance
7. Tensile Strength
(Protection Course)
8. Elongation (Polymeric Membrane) 9. Adhesion to Concrete
Mel-Prime S/B
Mel-Prime W/B
Mel-Prime VOC
10. Flood Test [2" (51mm)@ 24 hrs]
11. Water Vapor Transmission
(E96 Method B)
12. Exposure to Fungi
13. Water Absorption
Test Method
Visual
Tape measure
Weight
Micrometer
@ 73ºF (23ºC) T-070
@ 40ºF (4ºC) T-070
ASTM E 154 T-059
ASTM D 412 T-050
ASTM D 882 T-050
ASTM D 412, D 882) T-050
Pulled in Shear
T-057
T-057
T-057
T-064

T-044
(16 weeks) Buried in Soil
T-045
Typical Values
Black
4'x8' (1.22x2.44m)
44 pounds (19.96 kg)
90 mils
Pass
Pass
74-84 lbs. (33.57-38.10 kg)
850-1300 psi (5.87-8.97 MPa)
70-100 lbs. (31.76-45.36 kg)
450% Minimum

34 psi (.235 MPa)
21 psi (.145 MPa)
29 psi (.200 MPa)
Pass
0.015 gr./ft.²/hr.
(0.001395 gr./m²/hr.)
Pass
0.2%
Vertical Application
MEL-GARD is ideal for use wherever water and/or moisture is to be kept from penetrating vertical concrete walls, above or below grade. The combination of easy-to-handle 4' x 8' (1.22 x 2.44m) panels and its self-adhesive feature makes MEL-GARD particularly well suited for vertical surface usage. The built-in protection course guards against damage during construction and backfilling. Prior to MEL-GARD application, SEALTIGHT Detail Strips are applied to the inside and outside corners and over footings. MEL-GARD offers installers the option of sealing joints by overlapping or by using SEALTIGHT Detail Strips. Once MEL-GARD application is completed, backfilling can begin immediately. Where a high foundation wall is to receive several levels of MEL-GARD, backfilling can be done as the installation progresses, thus eliminating the need for scaffolding. Masonry walls must be parge coated with SEALTIGHT SEALMASTIC Trowel-Grade Emulsion and allowed to dry before applying MEL-GARD.

Staggered Joints
When MEL-GARD sheets are applied in a vertical or horizontal pattern on vertical surfaces or in a horizontal application. the sheets should be overlapped 3" (76.2cm) with the joints staggered. By following this procedural pattern, excessive material build-ups in the joint areas can be eliminated.

Application
STORAGE AND HANDLING: Store membrane sheets on pallets and cover if left outside. Keep materials away from sparks and flames. Store where temperature will not exceed 90ºF (32ºC) for extended periods of time.

SURFACE PREPARATION: Concrete surfaces must be clean, free of standing water and be reasonably smooth, so the panels will not "bridge" but lay flat to the surface. Patch all holes and voids and smooth-out any surface mis-alignments.

PRIME: Vertical surfaces must be primed with SEALTIGHT MEL-PRIME Primer prior to application of the MEL-GARD. Spray on the primer with commercial-type sprayer. A lamb's wool roller can also be used. Prior to application, prime all vertical and/or horizontal surfaces to be covered in one working day with applicable MEL-PRIME Primer. Uncovered, primed surfaces must be reprimed the next day, Follow all instructions and precautions shown on primer containers.

TEMPERATURE: Apply in dry, fair weather when the air and surface substrate temperatures are above 25ºF (-1ºC) and above.

FOOTING DETAILS: Use SEALTIGHT Detail Strips for impaction coverage. First, fold strips lengthwise and cut at the fold. Material is then ready to install as 4-1/2" (11.43cm) strips on either side of the rebar. Any excess can be turned down the face of the footings. Next, fill the keyway with SEALTIGHT Catalytic Bonding Asphalt.

Form and pour the walls. Install a SEALTIGHT Detail Strip horizontally along the wall where it meets the footing placing half the material up the wall and the other half onto the footing. Extend the material 4-1/2'' (11.43cm) beyond outside corners. Slit extended portion of detail strip lengthwise. Place the horizontal flap out onto the footing and bend the vertical flap around the wall (See Diagram A). Repeat this procedure in the opposite direction as shown in Diagram B.

VERTICAL WALLS: Apply MEL-GARD Membrane vertically or horizontally to primed surface and begin each sheet at the top of the footing and work upward to the desired level. Overlap joints 3" (7.62 cm) And roII the overlapped joint.

The height of the wall determines vertical or horizontal sheet application. In a typical vertical sheet application, begin at the bottom of the wall and work upward with each succeeding sheet overlapping by 3" and firmly roll in place. Likewise if the horizontal method is used for higher walls, also begin at the bottom of the wall and work upward with each succeeding sheet overlapping the lower sheet by 3" and firmly roll in place.
Stagger the joints of the second layer to avoid coincidence of joint with the first sheet application. This provides a "shingle effect" to drain surface water away from the membrane.

OPTION: If desired, the installer can elect to use a retaining strip or reglets at the top of the panel to assure that sheet movement will not occur during backfilling.

Once application has been completed, the installer has two options for sealing off the top of the membrane sheets. The workman can apply SEALTIGHT Pointing Mastic along the top of the sheets or if the membrane panels are close to the top of the wall. Detail Strip can be applied horizontally at the top termination and overlapping the top sheets.

Masonry wails must be parge-coated with SEALTIGHT Trowel Grade Emulsion and allowed to dry to seal porosity prior to membrane application.

HAND-RUB AND ROLL PRESS: Once positioned, immediately hand-rub MEL-GARD Membrane firmly to the surface and then pressure roll the overlap and complete surface to assure positive adhesion.

INSIDE CORNERS: Before MEL-GARD is applied, place a vertical SEALTIGHT Detail Strip on inside corners extending the material 4-1/2" (11.43cm) beyond each side of the corner (See Diagram D).

Terminate at the footing and finish the corner with SEALTIGHT Pointing Mastic.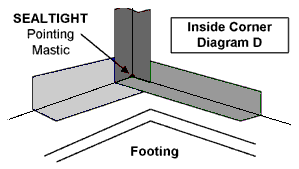 OUTSIDE CORNERS: After the membrane is applied, bend a SEALTIGHT Detail Strip vertically over the outside corner and extend 4-1/2" (11.43cm) beyond each side of the corner. Terminate the material at the footing, Finish the corner with Pointing Mastic (See Diagram C).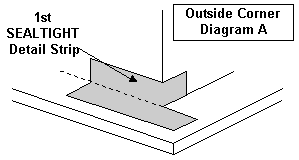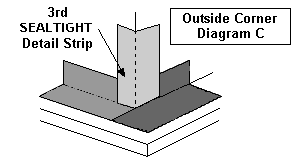 DRAINS AND PROTRUSIONS: All protrusions should be sealed with 2 layers of MEL-GARD Membrane applied at least 6" (152.4mm) in all directions. Seal all terminations with SEALTIGHT Pointing Mastic. Around drains apply 2 layers of MEL-GARD Membrane and put a bead of Pointing Mastic between the membrane and clamping rings and at all terminations, drains and protrusions.

NOTE: SEALTIGHT Moisture and Vapor Protection Membrane products can help reduce the amount of radon entering a building when used as one of the components of a radon control system.

INSPECT AND REPAIR: Inspect and repair immediately before covering. Tears and inadequate overlays should be covered with MEL-GARD Membrane and the patch edges sealed with Pointing Mastic.

PROTECT THE MEMBRANE: Backfilling should be done immediately using care and caution.

Specifications
A.R.E.A. Specifications, Chapter 29, Waterproofing.
Packaging
4' x 8' (1.22 - 2.44m) Sheets

Precautions
MEL-GARD should be applied at substrate temperatures of 25°F (1°C) or above by trained applicators using correct waterproofing techniques and procedures. Indoor storage is suggested. Store on a flat surface, not more than one pallet high. Backfilling should begin as soon as the application of MEL-GARD is completed. Care should be taken not to disrupt the bond of the membrane to the walls. Be sure the backfill material is not dropped against the membrane in such a manner that it could drag the sheet down vertically.

Masonry walls must be parge-coated with SEALMASTIC Trowel Grade Emulsion and allowed to dry before applying MEL-GARD. Prime the dried parge coat prior to applying MEL-GARD. The use of MEL-GARD does not negate the need for relief of hydrostatic heads. A complete drain tile system should be placed around the exterior of footings and under slabs, as required.

Avoid the use of products which contain tars, solvents, pitches, Polysulfide Polymers, or PVC materials that may come into direct contact with MEL-GARD.
Read and follow application information, precautions and Material Safety Data information.

Accessories
SEALTIGHT MEL-PRIME WATER-BASE PRIMER: Prepares concrete surface for MEL-GARD Membrane application. Arrives ready to use. Requires no additional mixing. MEL-PRIME emits no unpleasant odors and works with all SEALTIGHT Waterproofing Membranes. Applied easily with manual sprayer or roller. V.O.C. Compliant. MEL-PRIME is for use at temperatures of 40°F (4°C) and up. COVERAGE: 250 to 350 sq. ft./gal. (6.14 to 8.59m²/Iiter).

SEALTIGHT MEL-PRIME SOLVENT-BASE OR SOLVENT VOC PRIMERS: These primers are for use at temperatures of 25°F (-4°C) and above.
COVERAGE: 250-350 sq.ft./gal. (6.14 to 8.59m²/Iiter)
PACKAGING: 5 Gallon (18.93 Liter) Pails.

SEALTIGHT POINTING MASTIC: Used for sealing protrusions and corner details of SEALTIGHT membranes. COVERAGE 1/8" x 1"x 200'/gallon (3.18mm x 25.4mm x 60.96m/3.79 liters)
PACKAGING: 5 Gallon (18.93 Liter) Pails. 29 oz. (857.65ml) cartridges.

CATALYTIC BONDING ASPHALT: Easy-to-apply one-component material for sealing around footing rebars. COVERAGE: 200 sq. ft./gal (18.58m²)
PACKAGING: 5 Gallon (18.93 Liter) Pails.
SEALTIGHT DETAIL STRIP: Convenient, easy-to-use detail strips provide an economical and effective method for sealing top terminations, vertical and horizontal butt joints, i.e. inside or outside corners and where walls and footings meet. They may also be used for sealing top terminations on SEALTIGHT membranes.
PACKAGING: 9" x 50' (.23 x 15.24m) roll, 4 rolls per carton.


W. R. MEADOWS, INC. warrants that, at the time and place we make shipment, our materials will be of good quality and will conform with our published specifications in force on the date of acceptance of the order. THE FOREGOING WARRANTY SHALL BE EXCLUSIVE AND IN LIEU OF ANY OTHER WARRANTY, EXPRESS OR IMPLIED, INCLUDING THE IMPLIED WARRANTIES OF MERCHANTABILITY AND FITNESS FOR A PARTICULAR PURPOSE AND ALL OTHER WARRANTIES OTHERWISE ARISING BY OPERATION OF LAW, COURSE OF DEALING, CUSTOM OF TRADE OR OTHERWISE. As the exclusive remedy for breach of this Warranty, we will replace defective materials, provided, however, that the buyer examine the materials when received and promptly notify us in writing of any defect before the materials are used or incorporated into a structure. Three (3) months after W. R. MEADOWS, INC. has shipped the materials, all our Warranty and other duties with respect to the quality of the materials delivered shall conclusively be presumed to have been satisfied, all liability therefore terminates, and no action for breach of any such duties may thereafter be commenced. W. R. MEADOWS, INC. shall in no event be liable for consequential damages. Unless otherwise agreed to in writing, no warranty is made with respect to materials not manufactured by W. R. MEADOWS, INC. We cannot warranty or in any way guarantee any particular method of use or application of the performance of materials under any particular condition. Neither this Warranty nor our liability may be extended or amended by our salesmen, distributors or representatives, or by our distributor's representatives, or by any sales information or drawings.