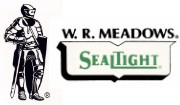 NO. 330
PVC WATERSTOPS

Prevents passage of water from liquid containing structures and through foundation walls or tunnels at construction and expansion joints.

Technical Description
SEALTIGHT PVC Waterstops are extruded from high-quality PVC resins that are plasticized and stabilized to offer long-life performance, resistance to abrasion and attack by ozone, oxygen, alkalies and waterborne chemicals.

SEALTIGHT PVC Waterstops are available in a variety of thicknesses, widths and center bulb sizes. The cross-section configuration features a multi-rib design for an effective grip and tenacious anchor to the
concrete and a flexible, hollow center bulb to accommodate moderate extension and transverse movements.

Uses
SEALTIGHT PVC Waterstops are embedded in adjacent pours of concrete to prevent the passage of water from liquid-containing structures or through foundation walls and tunnels at construction and expansion joints.

Advantages and Benefits
· Extruded from high-quality virgin PVC resins
· Flexible, lightweight and easy to install
· Resistant to abrasion and attack by ozone, oxygen, alkalies and waterborne chemicals

Application Tools
| | |
| --- | --- |
| Electric Splicer | Knife |
Application
SEALTIGHT PVC Waterstops should be securely held in place by splitting the concrete form. They are thermoplastic and may be field welded using an indirect heating element. When placing the concrete, thoroughly vibrate it around the waterstop to avoid honeycombs and to insure complete embedment of the ribbed flange.
| | | |
| --- | --- | --- |
| No. | Thickness | Width |
| 4316 | 3/16" (4.76mm) | 4" (101.6mm) |
| 6316 | 3/16" (4.76mm) | 6" (152.4mm) |
| 6380 | 3/8" (9.5mm) | 6" (152.4mm) |
| 9316 | 3/16" (4.76mm) | 9" (228.6mm) |
| 9380 | 3/8" (9.5mm) | 9" (228.6mm) |
Specifications
U.S. Corps of Engineers Spec. CRD C 572
Bureau of Reclamation
Canadian General Standards Board 41-GP-35M Types I and III
Department of Agriculture Soil Conservation
TVA Spec. PF 1026
Various State Highway and/or Public Works Departments
CH2M-HILL

Material Specifications for all SEALTIGHT Waterstops
Properties of Finished Waterstops
Tensile Strength (finished waterstop)
Ultimate Elongation (finished waterstop)
Stiffness in Flexure
Tear Resistance
Hardness, Shore A 10
Low Temp. Brittleness @ -35ºF (-37ºC)
Tensile strength after accelerated extraction
Elongation after accelerated extraction
Effect on Alkali after 7 days:
Weight +0.06%
Hardness +1
Test Method
ASTM D 638
ASTM D 638
ASTM D 747
ASTM D 624
ASTM D 2240
ASTM D 746
CRD C 572
CRD C 572
CRD C 572


Typical Value
2,020 psi (13.94MPa)
370
1,620 psi (11.18MPa)
372 lbs./in. (6.64kg/mm)
84
passed
2,070 psi (14.28MPa)
330%
passed


Color
Green

Precautions
Do not use direct flame or overheat waterstop during field splicing. Refer to Material Safety Data Sheet for complete health and safety information.
This material last updated August, 2000.


W. R. MEADOWS, INC. warrants that, at the time and place we make shipment, our materials will be of good quality and will conform with our published specifications in force on the date of acceptance of the order. THE FOREGOING WARRANTY SHALL BE EXCLUSIVE AND IN LIEU OF ANY OTHER WARRANTY, EXPRESS OR IMPLIED, INCLUDING THE IMPLIED WARRANTIES OF MERCHANTABILITY AND FITNESS FOR A PARTICULAR PURPOSE AND ALL OTHER WARRANTIES OTHERWISE ARISING BY OPERATION OF LAW, COURSE OF DEALING, CUSTOM OF TRADE OR OTHERWISE. As the exclusive remedy for breach of this Warranty, we will replace defective materials, provided, however, that the buyer examine the materials when received and promptly notify us in writing of any defect before the materials are used or incorporated into a structure. Three (3) months after W. R. MEADOWS, INC. has shipped the materials, all our Warranty and other duties with respect to the quality of the materials delivered shall conclusively be presumed to have been satisfied, all liability therefore terminates, and no action for breach of any such duties may thereafter be commenced. W. R. MEADOWS, INC. shall in no event be liable for consequential damages. Unless otherwise agreed to in writing, no warranty is made with respect to materials not manufactured by W. R. MEADOWS, INC. We cannot warranty or in any way guarantee any particular method of use or application of the performance of materials under any particular condition. Neither this Warranty nor our liability may be extended or amended by our salesmen, distributors or representatives, or by our distributor's representatives, or by any sales information or drawings.
.