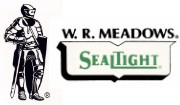 NO. 222-4
SEALTIGHT® POLY-JET® 3406
Technical Description
SEALTIGHT POLY-JET 3406 is a single-component, hot-applied sealant for use in sealing cracks and joints in portland concrete pavements that may be subject to fuel spillage. SEALTIGHT POLY-JET 3406 is not compatible with asphalt concrete pavements.

Supplied in liquid form in 5 gallon (18.93 liter) pails, SEALTIGHT POLY-JET 3406 is a unique, high-quality, hot-applied compound with excellent resistance to degradation from spillage of jet fuel, gasoline, motor oil and anti-freeze. SEALTIGHT POLY-JET 3406 is specifically formulated to meet and exceed all the performance requirements of ASTM for "Joint Sealant, Hot-Applied, Elastomeric, Jet-Fuel Resistant-Type for Portland Cement Pavements." SEALTIGHT POLY-JET 3406 is self-leveling and cures to a tough, resilient seal that is durable, provides low-temperature flexibility and will not track.

Specifications
ASTM D 3406
ASTM D 1854
ASTM D 3581
ASTM D 3569
Federal Specification SS-S-1614A
Federal Specification SS-S-167 (b)
AASHTO M 282
FAA-P 605
PHYSICAL PROPERTIES

TEST
Penetration, non-immersed @ 77ºF (25ºC)
Flow, 72 hours @ 158ºF (70ºC)
Bond, @ 0ºF, 3 cycles, 50% extension
Bond, fuel-immersed
Bond, water-immersed
Resilience @ 77ºF (25ºC)
Oven-aged resilience
Artificial weathering, 160 hours
Tensile adhesion
Flexibility, after 158ºF & bent @ 90º
TYPICAL RESULTS
110 dmm
No flow
Pass 3 cycles
Pass 3 cycles
Pass 3 cycles
65%
65%
Pass Test
700%
No crazing
or cracking
REQUIREMENT
130 dmm max.
No flow
Pass 3 cycles
Pass 3 cycles
Pass 3 cycles
60% minimum
60% minimum
See below*
500% min.
No crazing
or cracking
*After 160 hours of exposure, the joint sealant shall not flow, show tackiness, the presence of an oil-like film or reversion to a mastic-like substance, form surface blisters either intact or broken, form internal voids, have surface crazing, cracking, hardening, or loss of rubber-like properties. Evidence of physical change in the surface of the material by visual and tactile examination shall constitute failure of this test.

Additional POLY-JET 3406 Use Properties

Recommended pour temperature:
Safe heating temperature:
Weight/Volume
Coverage 1/2" x 1" (12.7 x 25.4mm) joint:
250ºF (121ºC)
270ºF (132ºC)
9.89 Ibs/gal. (1.19 kg/l)
26 lbs/100 lineal feet (380 g/m)
Use and Application
While heating, the sealant will go through a phase change in its viscosity, starting out thin and becoming quite thick between 180ºF (82ºC) and 225ºF (107ºC) as the polymers crosslink. Above 225ºF (107ºC), the sealant will thin back down to a pourable viscosity. Do not exceed the safe heating temperature [280ºF (138ºC)] as this will significantly reduce the pot life of the material and may cause the material to convert to a solid. If this should occur, the sealant must be removed from the melter immediately. (NOTE: POLY-JET 3406 cannot be re-melted once it has cured to its solid form.) At the safe heating temperature, the application life is a minimum of 6 hours.

SEALTIGHT POLY-JET 3406 must be heated in an oil-jacketed melter-applicator equipped with an agitator and separate temperature thermometers for the oil bath and heating vat. Heat only sufficient material to be used the same day. Material may be added as the sealant is withdrawn only if application is stopped and material is allowed to go through a heating cycle. Sealing may be done at air temperatures of 40ºF (4ºC) or higher. (NOTE: Application of sealant into frozen or wet pavement will result in loss of bond and premature failure of the sealant.) At the end of each day's sealing operation, all remaining material must be drawn off.

SEALTIGHT POLY-JET 3406 is not compatible with asphalt-based joint sealants. All equipment should be thoroughly cleaned prior to use. If flushing oil is used, drain all remaining flushing oil from the equipment including the kettle, pump, lines and hoses.

JOINT PREPARATION - Suggested joint configuration is a 1:1 ratio of 1/2" (12.7mm) minimum width formed by sawing, cleaning by sandblasting, blowing dry with oil-free compressed air, and installation of CERA-ROD Heat-Resistant Backer Rod. Joint interfaces must be dry and free of dust. Fill sealant flush with the pavement surface and strike off clean.

MAINTENANCE SEALING - Old joint sealing material must be routed out of the joint to a depth of 1 to 1-1/2" (25.4 to 38.1mm). Interfaces must be cleaned by sawing, sandblasting or mechanical abrasion. CERA-ROD Heat-Resistant Backer Rod should be installed to form a 1:1 ratio reservoir. In no case should the joint width to depth exceed a 1:1 ratio.

Packaging
The sealant is packaged in an easy-to-use poly bag inside a 5 gallon (18.93 liter) pail. Both the sealant and bag are to be placed in the melter for heat-up.

Limitations and Storage
Do not exceed the safe heating temperature of 280ºF (138ºC) or polymer degradation and gelation may occur. SEALTIGHT POLY-JET 3406 cannot be re-melted and should not be left in the melter after heating. The kettle should be flushed completely clean at the end of the sealing run. SEALTIGHT POLY-JET 3406 is not compatible with asphalt and cannot be used in conjunction with asphaltic concrete pavement or asphalt-impregnated expansion joint fillers. SEALTIGHT POLY-JET 3406 is not intended to be jet-blast resistant except when aircraft are moving at minimum moderate speeds.

Do not store the sealant in direct sunlight. Storage temperature should not exceed 100ºF (38ºC).

Precautions
Direct contact with this product should be avoided. The use of safety goggles/glasses, chemical-resistant gloves and protective clothing is recommended. Breathing of fumes/vapors should also be avoided. Use of a NlOSH-approved vapor/mist respirator is recommended. Refer to Material Safety Data Sheet for complete health and safety information.
This material last updated August, 2000.



W. R. MEADOWS, INC. warrants that, at the time and place we make shipment, our materials will be of good quality and will conform with our published specifications in force on the date of acceptance of the order. THE FOREGOING WARRANTY SHALL BE EXCLUSIVE AND IN LIEU OF ANY OTHER WARRANTY, EXPRESS OR IMPLIED, INCLUDING THE IMPLIED WARRANTIES OF MERCHANTABILITY AND FITNESS FOR A PARTICULAR PURPOSE AND ALL OTHER WARRANTIES OTHERWISE ARISING BY OPERATION OF LAW, COURSE OF DEALING, CUSTOM OF TRADE OR OTHERWISE. As the exclusive remedy for breach of this Warranty, we will replace defective materials, provided, however, that the buyer examine the materials when received and promptly notify us in writing of any defect before the materials are used or incorporated into a structure. Three (3) months after W. R. MEADOWS, INC. has shipped the materials, all our Warranty and other duties with respect to the quality of the materials delivered shall conclusively be presumed to have been satisfied, all liability therefore terminates, and no action for breach of any such duties may thereafter be commenced. W. R. MEADOWS, INC. shall in no event be liable for consequential damages. Unless otherwise agreed to in writing, no warranty is made with respect to materials not manufactured by W. R. MEADOWS, INC. We cannot warranty or in any way guarantee any particular method of use or application of the performance of materials under any particular condition. Neither this Warranty nor our liability may be extended or amended by our salesmen, distributors or representatives, or by our distributor's representatives, or by any sales information or drawings.