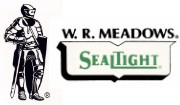 NO. 227
SEALEX®
TRAFFIC LOOP SEALANT
Provides fast, easy, economical sealing of saw-cut openings that protect traffic loop detector wires.

SEALTIGHT SEALEX Cold-Applied Loop Sealant is an efficient and economical material for traffic loop sealant application requirements.

Technical Description
SEALTIGHT SEALEX Cold-Applied Traffic Loop Sealant is a two-component, pourable sealant. It will not harm the insulation on electrical cables. SEALEX requires no special heating or application equipment. It bonds tenaciously to both Portland Cement and asphaltic concrete pavement. Summer temperatures will not cause SEALEX to flow from cracks or be picked up by vehicular traffic. Its bond and flexibility are retained during cold winter temperatures.

The product mixes quickly and easily. The container can be used for both mixing and pouring. It features a convenient pouring spout for direct application. SEALEX can be opened to traffic soon after application.

PHYSICAL PROPERTIES
Viscosity: Like medium-weight oil.
Work life: Approximately 30 minutes.
Tack-free time: 60 minutes depending upon road surface temperatures and weather conditions.

Uses
SEALEX is ideal for sealing saw-cut openings used to hold the sensitized wiring loops that control traffic signals, parking lot gates, ticket dispensers, traffic counters and similar equipment installations.

Advantages and Benefits
| | |
| --- | --- |
| | Approved for use by the 3 major traffic loop cable manufacturers |
| | Allows for quick, easy removal of sealant and cable, if cable replacement is needed |
| | Encapsulates and waterproofs cabling |
| | Won't run in hot weather or become brittle in cold |
| | Seals out water, dust, and dirt |
| | Retains elastic flexibility after curing |
| | Fast, easy, waterproof application |
| | Opens to traffic quickly after application...will not track or pick-up under heavy stop-and-go vehicular traffic |
| | Requires no primer...more economical than epoxies |
| | Cold-Applied SEALEX requires no special heating, mixing or pouring equipment |
Application Tools
| | |
| --- | --- |
| Electric Drill with Mixing Paddle | Wooden Stir Stick |
Application
SURFACE PREPARATION: Openings for loop detector wires to be marked and sawed to width and depth specified by equipment manufacturer. Remove debris, dirt and dust from the openings with clean compressed air. Openings must be dry and free of any moisture.

MIXING: SEALEX has 2 components that are accurately pre-measured for ideal curing. Pour all of Part A Activator into Part B Base Material in the imperial gallon can suitable for mixing. Proper blending can be accomplished with a wooden paddle stirred by hand or with a slow-speed electric drill fitted with a typical commercial mixing paddle. In either case, components must be thoroughly mixed. Blend material from top to bottom as well as in a circular motion. Scrape sides and bottom of the container to assure complete integration of the 2 components.

After thorough mixing, replace lid tightly on container, extend the collapsible pouring spout built into the container lid, then begin pouring. Material will flow and completely encapsulate the cabling. Fill flush and strike off clean. If necessary to open to traffic early, SEALEX may be dusted with talc, dry cement powder, or any suitable dusting agent.

REMOVAL: The cable and sealant may be removed by running a knife along both saw cut interfaces and lifting the loop out in 1 piece.

Packaging
1 gallon (3.79 liter) Unit packaged in a corrugated carton, consisting of a 4 ounce (118.30 milliliter) can of activator and 124 ounces (3.67 liters) of base material in an imperial gallon container suitable for mixing.
3 gallon unit available on special order.

Shelf Life
Minimum 1 year

Precautions
Read and follow application information, precautions and Material Safety Data information.

Coverage
SEALEX: 7.47 gals./ft³ (1,000 liters/m³). A 1/2" x 1/2" (12.7mm x 12.7mm) joint will require 1.3 gals/100 lineal feet (16 liters/100m).



W. R. MEADOWS, INC. warrants that, at the time and place we make shipment, our materials will be of good quality and will conform with our published specifications in force on the date of acceptance of the order. THE FOREGOING WARRANTY SHALL BE EXCLUSIVE AND IN LIEU OF ANY OTHER WARRANTY, EXPRESS OR IMPLIED, INCLUDING THE IMPLIED WARRANTIES OF MERCHANTABILITY AND FITNESS FOR A PARTICULAR PURPOSE AND ALL OTHER WARRANTIES OTHERWISE ARISING BY OPERATION OF LAW, COURSE OF DEALING, CUSTOM OF TRADE OR OTHERWISE. As the exclusive remedy for breach of this Warranty, we will replace defective materials, provided, however, that the buyer examine the materials when received and promptly notify us in writing of any defect before the materials are used or incorporated into a structure. Three (3) months after W. R. MEADOWS, INC. has shipped the materials, all our Warranty and other duties with respect to the quality of the materials delivered shall conclusively be presumed to have been satisfied, all liability therefore terminates, and no action for breach of any such duties may thereafter be commenced. W. R. MEADOWS, INC. shall in no event be liable for consequential damages. Unless otherwise agreed to in writing, no warranty is made with respect to materials not manufactured by W. R. MEADOWS, INC. We cannot warranty or in any way guarantee any particular method of use or application of the performance of materials under any particular condition. Neither this Warranty nor our liability may be extended or amended by our salesmen, distributors or representatives, or by our distributor's representatives, or by any sales information or drawings.