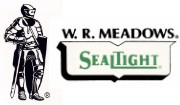 NO. 791
SEALTIGHT® KOOL-ROD™
BACKER ROD FOR COLD-APPLIED SEALANTS
FLEXIBLE, CLOSED-CELL JOINT FILLER BACKING MATERIAL
SEALTIGHT KOOL-ROD is specifically designed as a compressible backing material to be used in conjunction with a wide variety of cold-applied joint sealants.
TECHNICAL DESCRIPTION
SEALTIGHT KOOL-ROD is a closed cell, polyethylene, flexible, rope-like foam joint backing material. This material is virtually non-absorbent and chemically inert to most solvents. KOOL-ROD will not stain or adhere to sealant materials. It is fully compatible with acrylic, butyl, polyurethane, polysulfide, silicone and most other cold-applied sealant compounds.
COMPLIMENTARY MEADOWS COLD-APPLIED SEALANTS
#224
SOF-SEAL, two-part, low-modulus, Polymer joint sealant
#225
SEALTIGHT #158, rubberized joint sealant
#226
GARDOX, two-part, cold tar rubber joint sealer
#234
SAFE-SEAL (regular formula), multi-purpose, asphaltic joint sealer
#235
SAFE-SEAL 3405, high performance asphaltic joint sealer
#773
POURTHANE, two-part, self-leveling, Polyurethane joint sealant
#784
DECK-O-SEAL, one- and two-part Polysulfide sealant
PRODUCT COLOR: Gray
USES
SEALTIGHT KOOL-ROD is highly adaptable for both vertical and horizontal applications. It is commonly used in glazing operations, copings, between pre-cast panels, around door and window perimeters. It provides the perfect backing for all types of construction, expansion, isolation, control and pavement joints.
FEATURES / BENEFITS
| | |
| --- | --- |
| | Controls depth of sealant / Ensures proper joint design ratio |
| | Forces sealant against joint sidewalls / Provides maximum sidewall adhesion |
| | Sealants will not adhere to KOOL-ROD / Eliminates 3-sided joint adhesion failure |
| | Closed cell foam technology / Does not allow air or moisture entrapment |
| | Easily compressible, lightweight / Installs quickly, stays in place |
| | New, easy to handle, smaller packaging / Added contractor convenience |
INSTALLATION
Joint or opening must be clean, dry and free of obstructions. Select the proper rod diameter and cut to length or use directly from the spool. With a blunt instrument or roller, uniformly install rod at a level recommended by the sealant manufacturer, specifier or architect. Generally, the depth of the joint after KOOL-ROD is installed should be one-half the width. Very large and very small joints vary in terms of this depth-to-width ratio.
Do not tear, puncture, twist or overly compress the backer rod during installation. Caution should be used to avoid any situation where voids may form and trap air / moisture between backer rod and sealant. Care should also be taken to prevent the introduction of air bubbles into the sealant during mixing (if, any) and / or installation.
"CONTRACTOR FRIENDLY" PACKAGING

Rod Diameter
Joint Width
Footage / Carton
Packaging
1/4" (6mm)
3/16" (4mm)
4,000 LF (1219m)
2 spools / carton
3/8" (9.5mm)
1/4" (6mm)
2,100 LF (640m)
2 spools / carton
1/2" (12mm)
3/8" (9mm)
2,500 LF (762m)
2 spools / carton
5/8" (15mm)
1/2" (12mm)
1,550 LF (472m)
2 spools / carton
3/4" (19mm)
5/8" (15mm)
1,100 LF (335m)
2 spools / carton
7/8" (22mm)
3/4" (19mm)
850 LF (259m)
1 spool / carton
1" (25mm)
7/8" (22mm)
600 LF (182m)
1 spool / carton
1-1/4" (31mm)
1" (25mm)
400 LF (121m)
1 spool / carton
1-1/2" (38mm)
1-1/8" (27mm)
420 LF (128m)
6' sections / carton
2" (50mm)
1-5/8" (41mm)
240 LF (73m)
6' sections / carton

This product last updated November, 2001



W. R. MEADOWS, INC. warrants that, at the time and place we make shipment, our materials will be of good quality and will conform with our published specifications in force on the date of acceptance of the order. THE FOREGOING WARRANTY SHALL BE EXCLUSIVE AND IN LIEU OF ANY OTHER WARRANTY, EXPRESS OR IMPLIED, INCLUDING THE IMPLIED WARRANTIES OF MERCHANTABILITY AND FITNESS FOR A PARTICULAR PURPOSE AND ALL OTHER WARRANTIES OTHERWISE ARISING BY OPERATION OF LAW, COURSE OF DEALING, CUSTOM OF TRADE OR OTHERWISE. As the exclusive remedy for breach of this Warranty, we will replace defective materials, provided, however, that the buyer examine the materials when received and promptly notify us in writing of any defect before the materials are used or incorporated into a structure. Three (3) months after W. R. MEADOWS, INC. has shipped the materials, all our Warranty and other duties with respect to the quality of the materials delivered shall conclusively be presumed to have been satisfied, all liability therefore terminates, and no action for breach of any such duties may thereafter be commenced. W. R. MEADOWS, INC. shall in no event be liable for consequential damages. Unless otherwise agreed to in writing, no warranty is made with respect to materials not manufactured by W. R. MEADOWS, INC. We cannot warranty or in any way guarantee any particular method of use or application of the performance of materials under any particular condition. Neither this Warranty nor our liability may be extended or amended by our salesmen, distributors or representatives, or by our distributor's representatives, or by any sales information or drawings.