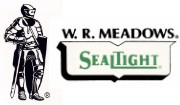 NO.227- 3 - PD
SEALTIGHT®SEALEX®E-Z
ONE PART,FLEXIBLE,COLD APPLIED TRAFFIC LOOP SEALANT
NEW, EASY TO USE, SELF-LEVELING, SINGLE COMPONENT TRAFFIC LOOP CABLE PROTECTOR AND SEALANT
Technical Description
SEALTIGHT SEALEX E-Z is a one part,flexible, and fast drying traffic loop protector and sealant. This ready to use,pourable formulation eliminates the wasted time and labor of expensive two part, mechanical mixing.While totally encapsulating sensitive detection wiring to add greater protection, SEALEX E-Z provides superior joint sealing properties.
SEALEX E-Z can even be applied into damp joints.(No standing water)It bonds tenaciously to both Portland cement and asphaltic concrete pavements.Sidewall adhesion and flexibility characteristics are retained during cold winter temperatures.SEALEX E-Z will not flow from joints or be picked up by vehicular traffic in hot weather.
FEATURES AND BENEFITS
| | |
| --- | --- |
| | Self leveling /No tooling required |
| | Easy to use /One-component,pours directly from the container,no mechanical mixing necessary |
| | Totally encapsulates wiring /Protects and waterproofs cabling |
| | Can be applied to damp joints /Increased productivity |
| | Fast drying /Opens to traffic immediately with proper joint design |
| | Single component solution /No ratio proportioning mix-ups |
| | Outstanding sealant characteristics /Year-round seasonal performance |
| | High arc resistance /No threat of electrocution |
| | Safe to use /No special protective gear needed |
| | Gives off no dangerous vapors /No special ventilation or respirators required |
| | Cleans up with water /Easy to maintain |
Installation
Saw cut joint to traffic control cable manufacturer's dimensions.Ensure that the sawed joint is clean and
free of standing water,however SEALEX E-Z will adhere to damp joints. Install traffic control cable into joint. Simply pour SEALEX E-Z directly from one-gallon container using attached pouring nozzle. (If purchasing product in five gallon pails,use any appropriate,clean container,"Necked Downed "to ensure precise sealant placement. Although SEALEX E-Z requires no special mixing,light manual stirring is recommended if product has been sitting a long time.)
Preferable joint configuration calls for poured sealant to remain recessed 1/8" below the top of joint. This allows for the pavement to be opened to traffic immediately. If used in applications where sealant will come in direct contact with vehicular traffic, SEALEX E-Z will become tack free within two hours.
COVERAGE

LINEAR FEET PER GALLON

DIMENSIONS

1/2"
1"
1-1/2"
2"
1/4"
154
77
51
39
3/8"
103
51
34
26
1/2"
77
39
26
20
PHYSICAL PROPERTIES
Consistency: Heavy Syrup-Self Leveling
Weight Per Gallon: 8.3 Lbs. (3.74kg)
Color: Black
TEST
RESULTS
Total Solids by weight, % minimum
ASTM D 2834
70
Tack Free Time, h, max.
ASTM C 679
2
Rheological Properties
ASTM C 639 TYPE 1
Smooth surface
Extrusion Rate, mL/min. minimum
ASTM C 1183
Greater than 50
Hardness shore A, minimum
ASTM D 2240
Greater than 10
Penetration @ 25º C, max.
ASTM D 5
70
Dielectric Strength, 60 Hz, Short Time test,
Electrode 1 in air @ 25º C kV/mm, minimum
ASTM D 149
Greater than 13.8
Flex @ -7 C, 1 inch, 90º Bend
ASTM D 5329
Pass
PACKAGING & STORAGE
1 Gallon (3.79 Liter) Container w/Nozzle
5 Gallon (18.93 Liter) Pail
55 Gallon (208.45 Liter) Drum
KEEP FROM FREEZING
Storage temperature should not exceed 90 °F (32 °C). Apply when pavement surface is at least 40 °F.
SHELF LIFE - 6 months when stored unopened, in original container. Stir before using.
CLEAN UP - is easily cleaned with water before product cures. After SEALEX E-Z is cured,use a solvent-based cleaner.
PRECAUTIONS - Refer to Material Safety Data Sheet for complete Health and Safety Information.
This material last updated August, 2000.



LIMITED WARRANTY
W.R.MEADOWS,INC. warrants that at the time and place we make shipment, our material will be of good quality and will conform with our published specifications in force on the date of acceptance of the order. Read complete warranty. Copy furnished upon request.

Disclaimer
The information contained herein is included for illustrative purposes only, and to the best of our knowledge, is accurate and reliable. W.R.MEADOWS,INC. cannot however under any circumstances make any guarantee of results or assume any obligation or liability in connection with the use of this information. As W.R.MEADOWS, INC. has no control over the use to which others may put its product, it is recommended that the products be tested to determine if suitable for specific application and/or our information is valid in a particular circumstance. Responsibility remains with the architect or engineer, contractor and owner for the design, application and proper installation of each product. Specifier and user shall determine the suitability of
products for specific application and assume all responsibilities in connection therewith.