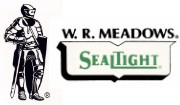 NO. 367
MED-CURE™
CONCRETE CURING COMPOUND
Technical Description
SEALTIGHT MED-CURE Concrete Curing Compound was specially formulated to supplement the SEALTIGHT line of curing compounds and provide the contractor with a good, general-purpose curing compound for construction applications where economy is of prime importance. It contains no wax, resin or acids. MED-CURE meets maximum VOC content limits of 350 g/L for Concrete Curing Compounds as required by the U.S. EPA Architectural Coatings Rule.
Uses
SEALTIGHT MED-CURE is ideal for curing, hardening and dustproofing exposed concrete floor slabs, sidewalks, driveways, beams, columns, etc. It can be used to provide a hard, dust-free surface on concrete floors to be painted or covered by resiliant, carpeted, wood or synthetic flooring.

Advantages and Benefits
| | |
| --- | --- |
| | Penetrates to cure and harden in one easy application |
| | Premixed just stir and apply |
| | Ideal for interior, exterior, horizontal or vertical, new or old concrete surfaces |
| | Dries fast may be re-coated if desired |
| | Application tools may be cleaned with water |
| | VOC compliant...meets the U.S. EPA Architectural Coatings Rule requirements |
Application Tools
| | |
| --- | --- |
| Manual Sprayer | Paint Roller |
Application
NEW CONCRETE: Apply SEALTIGHT MED-CURE as soon as surface water has disappeared and the surface is dry to the touch or hard enough to walk on. Apply one even coat with a pressure hand sprayer or paint roller.

OLD CONCRETE: Clean surface thoroughly with a trisodium phosphate solution and rinse thoroughly. Apply MED-CURE after the surface has dried. NOTE: Keep heavy traffic off surface for 24 to 48 hours after applying MED-CURE. Clean equipment with soap and water while still wet.

Packaging
5 gallon (18.93 liter) Pails
55 gallon (208.20 liter) Drums

Coverage
Broomed Surface: 400 ft.²/gal. (9.82m²/L)
Troweled Surface: 600 ft.²/gal. (14.73m²/L)

Precautions
Use material "as-is" in the container. DO NOT DILUTE. Do not apply if the temperature of the concrete is less than 35ºF (2ºC) or above 135ºF (57ºC). This product will not support combustion.
If MED-CURE is accidentally sprayed or spilled on glass, brick, aluminum, painted surfaces, etc., flush immediately with water. Do not over-apply. KEEP FROM FREEZING. Refer to Material Safety Data Sheet for complete health and safety information.
This material last updated January, 2000.



W. R. MEADOWS, INC. warrants that, at the time and place we make shipment, our materials will be of good quality and will conform with our published specifications in force on the date of acceptance of the order. THE FOREGOING WARRANTY SHALL BE EXCLUSIVE AND IN LIEU OF ANY OTHER WARRANTY, EXPRESS OR IMPLIED, INCLUDING THE IMPLIED WARRANTIES OF MERCHANTABILITY AND FITNESS FOR A PARTICULAR PURPOSE AND ALL OTHER WARRANTIES OTHERWISE ARISING BY OPERATION OF LAW, COURSE OF DEALING, CUSTOM OF TRADE OR OTHERWISE. As the exclusive remedy for breach of this Warranty, we will replace defective materials, provided, however, that the buyer examine the materials when received and promptly notify us in writing of any defect before the materials are used or incorporated into a structure. Three (3) months after W. R. MEADOWS, INC. has shipped the materials, all our Warranty and other duties with respect to the quality of the materials delivered shall conclusively be presumed to have been satisfied, all liability therefore terminates, and no action for breach of any such duties may thereafter be commenced. W. R. MEADOWS, INC. shall in no event be liable for consequential damages. Unless otherwise agreed to in writing, no warranty is made with respect to materials not manufactured by W. R. MEADOWS, INC. We cannot warranty or in any way guarantee any particular method of use or application of the performance of materials under any particular condition. Neither this Warranty nor our liability may be extended or amended by our salesmen, distributors or representatives, or by our distributor's representatives, or by any sales information or drawings.